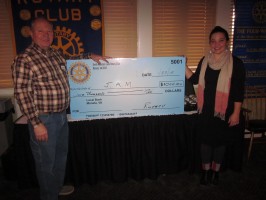 The Rotary Club of SML recently donated $1,000 to help fund the Franklin County Junior Appalachian Musicians or JAM.  The Franklin County JAM is a new program made possible by the Smith Mountain Arts Council  along with other individuals and organizations.  Ms. Emily Blankenship Tucker, Program Director for the Franklin County JAM,  spoke to members of the Rotary Club of SML about the program and its goal of providing opportunities for elementary and middle school students to participate in the old-time and bluegrass music and dance traditions of the Southern Appalachians. JAM provides children with the opportunity to not only learn traditional music but to also develop skills to perform in both small and large groups.
This program is held for 4th and 5th grade elementary students on Tuesdays from 3:30-4:30PM at Burnt Chimney Elementary in Wirtz and for middle school students on Wednesdays from 3:30-4:30PM  at Ben Franklin
Middle School in Rocky Mount. Instruction is currently offered on fiddle, banjo, and guitar.   The cost per lesson is $10 or $5 per lesson for students on free or reduced lunch programs.  JAM tries to provide instruments for those students who do not have access to one.
For more information about the JAM program, please contact Mr. Jim Mullens, Smith Mountain Arts Council, at jhmullens@yahoo.com or Ms. Emily Blankenship-Tucker at emilyrosetucker@gmail.com.  You may also find more information about JAM at http://www.regionaljam.org.