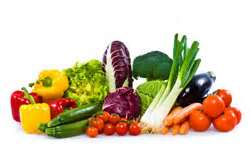 The "Tackling Hunger" project is flourishing through the cooperation of Booker T. Washington National Monument, the Rotary Club of Smith Mountain Lake, the Franklin County Master Gardeners, Hot Shots Entertainment Center, Lake Christian Ministries and more than 35 adult volunteers from the community. The 2012 growing season produced over 3,500 pounds of produce distributed by Lake Christian Ministries – a food pantry that serves the hungry in Bedford and Franklin Counties – about 7,000 meals for local families.
Tackling Hunger vegetables and fruits come from three sources: the Giving Garden and the Heirloom Garden (both at Booker T. Washington National Monument) and the Plant a Row program, where family growers and farmers throughout the community drop off fresh fruits and vegetables at Hot Shots Entertainment Center.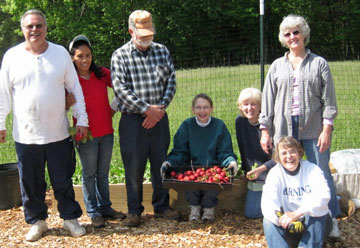 At the Giving Garden alone, more than 2,000 pounds of organic potatoes, tomatoes, muskmelons, carrots, beets, peas, peppers, zucchini, beans and other produce are grown annually and harvested for hungry families. Volunteers estimate that the harvested tomatoes alone would cost $1,400 at retail. Of the 35 volunteers involved in the project, 21 devoted 925 hours tending to the Giving Garden in 2012.
Since SML Rotary started Tackling Hunger in 2009, the growing area has increased by 40%, a rinsing station to clean the vegetables has been added, and there's now a second table to allow preparation for planting. New floating row covers keep bugs away from squash, zucchini and bush green beans. A rain gauge helps to better determine how much watering is needed. Compost tea (from worm castings) was added to the peas and leafy greens, and compost manure now augments many of the beds.
Volunteers share gardening techniques and good times with students from the Smith Mountain Lake Christian Academy and children from the Good Neighbors Summer Camp. The kids pick vegetables, plant seeds, learn about composting and take home a pot with green bean seeds that they plant.
Tackling Hunger has succeeded remarkably thanks to the many committed volunteers from the community – and the partnership with community organizations. If you wish to support Tackling Hunger in any way, call De English at 540-483-0123.