Trinity Ecumenical and Resurrection Catholic Church parish nurse, Tami Aiken, recently spoke to members of the Rotary Club of SML about disease prevention. Ms. Aiken's message discussed ways we can each adapt our lifestyle to include simple changes that may prevent many diseases.  Most are well known but are really important practices to incorporate into our daily lives.  Highlighted by Ms. Aiken was hand washing before meals, restroom breaks and the use of hand sanitizers.  A few others included maintaining a healthy weight (1 pound =3500 calories), drinking a glass or two of water 30 minutes before eating to help you feel less hungry, eating a well balanced diet and limiting salt intake to 1500 milligrams per day. Exercising at least 30 minutes per day, walking 10,000 steps per day, gardening etc., are all important for overall well being.
Ms. Aiken also stressed the importance of health screenings and annual physical examinations to determine overall health and to identify a health issue before it becomes too serious.  Some of these screening include mammograms, PSA tests, colonoscopies and appropriate immunizations.
You do not have to be a member of Trinity Ecumenical or Resurrection Parish to reach out to Tami Aiken. She can be reached by email at: tepnurse@smltep.org<mailto:tepnurse@smltep.org>.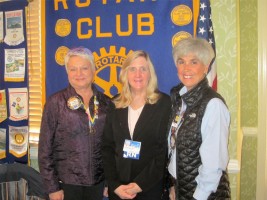 Photo:  From left: Pidge Morgan, Rotary Club of SML Sergeant at Arms,  Tami Aiken, and Carolyn Gordon, President, Rotary Club of Smith Mountain Lake.