Each of the guests were given a racing program along with "funny money" to bet on the horses entered in each of the eight races projected on a large screen at the 4H  Center in Wirtz, VA.
Throughout the evening over 20 door prizes were raffled off to lucky winners.  Prizes included gift certificates for wine tasting, spa treatments, restaurants,  and other prizes.  The lucky race winners also competed for ten major  race winner prizes that were raffled off.  Prizes included a ladies dress watch, golf packages, framed paintings and photographs from local artists, a taste of the lake gift certificate packages and many more.
Always a highlight of the evening is the ladies hat parade contest and this year did not disappoint. Based on the tradition associated with the Kentucky Derby,  the many participants wore colorful and creative hats reflecting a horse race theme, halloween or simple elegance. Prizes were awarded to the top three hats determined by the judges as the best of the best.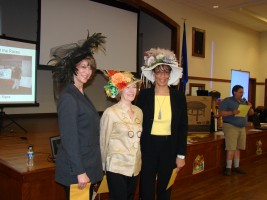 All net proceeds proceeds from A Nite at the Races will fund many of the Rotary sponsored projects in our local community.