Have you  heard of Rotary Club Nite at the Races?
The Nite at the Races was a thoroughbred of fun for the full house that attended.  All eight races were punctuated by the crowd with shouting and cheering for the favorite horse to win.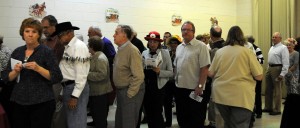 It is estimated that the event will raise $12,000 for the Rotary Club of Smith Mountain Lake.  The money will be used exclusively for Rotary projects and supporting local charities.  Among the many projects, the club has a partnership supporting Dudley Elementary School and our Hunger and Nutrition Program Provides fruits and vegetables to Lake Christian Ministries.  Financial support is provided to 13 local causes and charitable organizations and Rotary scholarships are presented at Staunton River and Franklin County high Schools.  The club hosts an annual "Excellence in education" banquet honoring teachers at ten local elementary and middle schools.  The club also supports Rotary International's project for the worldwide elimination of Polio.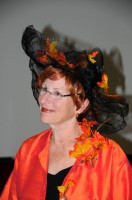 The Lady's Hat Parade is a crowd pleaser every year.  Ladies attending the Nite at the Races are encouraged to wear a special Derby hat.  Some are very stylish and some are custom designed in very clever ways.  The winner this year was Toni Sidleman with a hat decorated with many fall colored leaves.  Her ensemble also included shoes with fall leaves to match.  The second place hat was created by Marge Epps and was a flashy pink flamingo based hair accessory.
Winners of the major prizes include the following:
Ann Kostel – Elegant dining for two at the Hotel Roanoke
Darlene Gauthier – Pidge Morgan photography Massai Giraffe portrait
Jeff Teeter – Giant golf package at Brice Resort, Hunting Hills Country Club, Mariner's Landing and Westlake Golf and Country Club
David Grant – Arthur's Jewelry custom diamond ring
Cindy Turlington – Bernard's Landing stay and dinner at the Landing
Marge Epps – hickory Hills Vineyards tasting party
Margaret Hager – Original sailboat painting
Peter Brinkerhoff – Wintergreen Resort recreation coupons
Robin Martinelli – Taste of the Lake dining discount package
Dawn Spencer – Lake Wicker glider lounge
A 50/50 drawing was won by Paul Giammattei who graciously donated the full amount back to the Smith Mountain Lake Rotary Foundation.
Other prizes include numerous gifts presented by local sponsoring businesses too numerous to mention.
Good food and fun at Nite at the Races put everyone in the winner's circle.
For information on the rotary Club of Smith Mountain Lake, or any of its projects, contact Steve Miller at 540-520-4028.